Fault Record of SPC Flooring Extrusion Line In The USA
Fault Record of SPC Flooring Extrusion Line
Machine No.: Line 2#
Fault A
Fault Condition
Main Motor Jump: Everything is on except the motor for main screw is stopped.   And there is no alarm on the screen.
The two sudden stops occurred after 15 to 16 hours of normal operation.
Fault Diagnosis
Assume motor failure or inverter failure. Hypothesis of motor faults, motor heat dissipation problems, resulting in excessive temperature and start high-temperature protection.
Motor overload protection, screw internal pressure is too large to start overload protection.
Troubleshooting
If the motor heat dissipation problem, add a mobile fan for cooling, such as prolonging working hours or continuous non-power-jump, that is the motor heat dissipation problem, waiting for communication with the motor manufacturer.
Excluding overload protection, there is no motor overload protection record in the system.
Solutions await discussion.
Fault B
Fault Condition
Inverter Fault analysis, Inverter alarm code 83
Troubleshooting
According to 83 fault number, check whether the inverter is grounded Verify the grounding line of the converter and equipment. The yellow-green line in the figure is the special grounding line.

Machine No.: Line 1#
Fault A
Fault Condition
Cooling Fan Fault
Fault Diagnosis
Assume fan motor failure or contactor failure.
Troubleshooting
Replacement of fan to determine the cause of failure is fan or contactor.
Field feedback, the fan burned out, need to replace the fan, and there are no accessories on the site.
Solution: Send 2 radiator fans to U.S. factories immediately.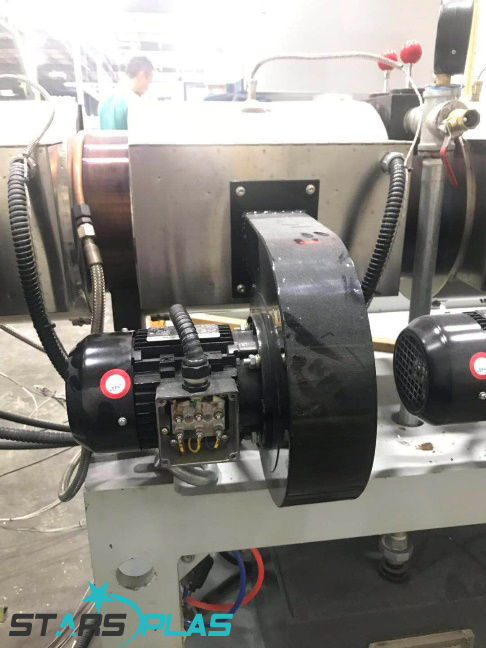 Fault B
Fault Condition
Screw Jump Fault, The emergency stop of No. 1 is shown in the program and takes place 5-6 minutes after the start-up.
Fault Diagnosis
1. Assuming that the internal pressure of screw is too high, it may be caused by the failure of shutdown material to extrude into the die.
2. Inverter and motor configuration problems, if the frequency converter is configured with 400V, then the frequency will be adjusted back to 50HZ, the current is easy to increase and cause motor overheating.
Troubleshooting
Change the frequency converter to 480V.
Remove the die and the confluence core, extrude the material in the screw and re-install it before starting the machine.