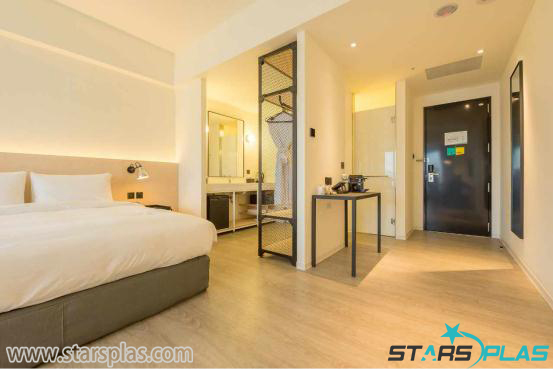 SPC Flooring Planks Machine
SPC Flooring Planks Machine from StarsPlas is advanced in skill and high automation. SPC Flooring Planks is the next evolution in vinyl flooring family.
SPC Flooring Planks Machine from StarsPlas is advanced in skill and high automation. The base material extrusion, wood grain embossing, color film, wearing film, underlying fiberglass soft silencing layer laminating or heat transfer printing can be finished the same time in the SPC Flooring Planks Machine.
| | | |
| --- | --- | --- |
| NO. | Machine Name | Qty. |
| 1 | SJSZ92/188 Conical twin screw extruder | 1 set |
| 2 | Hanger plate mold | 1 set |
| 3 | Four-roll calender | 1 set |
| 4 | Cooling bracket + trimming device | 1 set |
| 5 | Four-site coating + correction device | 1 set |
| 6 | Traction machine | 1 set |
| 7 | Precision cutting plate machine | 1 set |
| 8 | Feeding device | 1 set |
1. The screw adopt the design of special mixing material function and high plasticization capacity. This guarantee the uniformity of plastic melting, coloring and the high output.
2. Clothes rack type mould head adopt double throttling design, which make the more precision of adjusting the thickness of sheet.
3. The ±1℃ precision degree of temperature control can control the plasticization precess, thickness and surface smooth of sheet accurately.
4. The arrange of roller can be vertical , horizontal or free adjusting type, which can give more selection basing on different thickness of sheet.
5. The screw adjusting and oil pressure press-roller double direction adjusting can control the thickness of sheet accurately.
Rigid Core Flooring is extruded by extruder and T-die extrusion PVC substrate, with three-roll or four-roll calender, respectively, PVC wear layer, PVC color film and PVC substrate, one-time heating paste, embossed products , The process is simple, close by heat to complete, do not need glue.
SPC Flooring Planks Machine Process
2. Extrusion System
3. Calender System
4. Drawer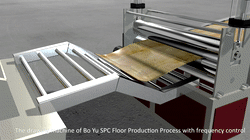 5. Cutter
6. Automatic Plate-lifting Machine
SPC Vinyl Flooring
SPC Vinyl Flooring is considered the new generation of floor covering,  if features: extremely stability,  high performance,  completely water-proof,  high density sold core, indentation resistance; SPC Vinyl Flooring can be easily installed on different type of floor base, either concrete,  ceramic or existing flooring; It's formaldehyde free, completely safe flooring covering materials for both residential and public environment.
1. Fireproof
2. Insect prevention
3. UV resistance
4. Waterproof
5. Easy installation
Machine FOB Shanghai Price: 152,000$ ,
Please get in touch
Our expert support team will answer all your questions.
Live Support is available
Mon-Sat 9am-5pm Beijing time
Email:

TEL:

+86 512 56303759

WhatsApp/Cell:

+86 18913613799

FAX:

+86 512 58535268

ADD:

Wanda Plaza 3506, No.20 Renmin East Road,
Zhangjiagang China, P.O.215600