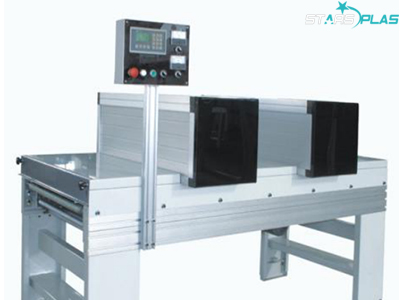 SPC Flooring UV Coating Machine
SPC Flooring UV Coating Machine is used to coat UV varnish on surface of SPC flooring, which makes it look like wood or marble, and its surface is matt glossy and anti-scratched.
The process of UV Coating Machine for SPC Flooring:
1.Dust cleaning
2.Two rollers UV coating
3.Ten meters levelling
4.Five lamps UV drying
Main parameters of SPC Flooring UV Coating Machine:
| | |
| --- | --- |
| Total length | 25m |
| Maximum working width | 1300mm |
| Processed thickness of panel | 2-80mm |
| Max working speed | 20m/min |
What is UV Coating?
The wood coating industry initially embraced UV curing technology as a way to increase both productivity and performance, and more recently as a means to save energy and meet environmental regulations. Initially, all applications were based on 100 % solids UV-curable products, coating mainly flat panels by roller coater.
The UV coatings contain so-called photo initiators that ensure for instant curing when radiated with UV light. Instant curing of floor coatings with ultraviolet is suitable for various bases:
Wood
Concrete
Flexible
Polyurethane and Epoxy
The Structure Of SPC Flooring:
More details about the SPC Flooring Tiles  please visit: http://www.starsplas.com/spc-waterproof-flooring-tile/
Advantages of using SPC flooring UV Coating Machine:
The SPC floor can be used straight away
Minimal inconvenience
Only in combination with environmentally-friendly products
Industrial quality
Easier to clean
The History of SPC Flooring UV Coating Machine:
During the 1990s, UV-curable polyurethane dispersions in water (UV-PUD) were developed, and PVC floor coating as the first industrial application. The flexibility, adhesion and stain resistance of these coatings made this new technology very successful. The low viscosity and the very low VOC of these dispersions also made them very attractive for spray, curtain and vacuum applications onto wood.
Field applied wood floor coatings, until recently however, have required conventional curing. Polyurethanes are the leading type of field applied floor coatings. Others include conversion varnishes, oils and waxes. Today, there are several UV-curable wood floor coatings in varying stages of commercial development, including 100 % solids and waterborne coatings.
Please get in touch
Our expert support team will answer all your questions.
Live Support is available
Mon-Sat 9am-5pm Beijing time
Email:

TEL:

+86 512 56303759

WhatsApp/Cell:

+86 18913613799

FAX:

+86 512 58535268

ADD:

Wanda Plaza 3506, No.20 Renmin East Road,
Zhangjiagang China, P.O.215600